Try our Wireless Bluetooth Earpiece!
With our BLUETOOTH WIRELESS EARPIECE, your hands will always be free to carry out all your tasks from driving, to working out at the gym to gaming. Need to take a call? With one tap you can answer your calls and enjoy your day without the stress of fumbling around trying to untangle wires.
WHY CHOOSE THESE  WIRELESS EARPHONES?  
WIRELESS: We all hate untangling wires. Listen to your music and make phone calls WIRE FREE.
UNIVERSAL COMPATIBILITY: if your device has BLUETOOTH… these will work with it… guaranteed!!
USE THEM ANYWHERE: Use them out jogging, use them on your commute, use them gaming or even when your on a plane!
PRICE: For the price, these cheap wireless earbuds are perfect!
PAIRS IN SECONDS via BLUETOOTH – with voice prompts provided when powering on, off & for incoming calls.
COMFORT FIT – These pods fit really comfortably into your ears. They won't fall out.
TRUE WIRELESS SOUND –  Get the best from your tunes with deep bass and extended frequency response
INDIVIDUALITY Cool color options – which one will you choose? 
These ONE BUTTON SET UP buds will forever change the way you use your headphones. These Wireless earpiece offers less Stress with no more tangled wires to contend with. More versatile than Airpods, they are compatible with both Android & Apple. We got them in 5 different colors and come complete with charging case.
Enjoy these lightweight Wireless Pods while you listen to your latest download, on your commute, while you workout or even while you binge on your favorite podcast.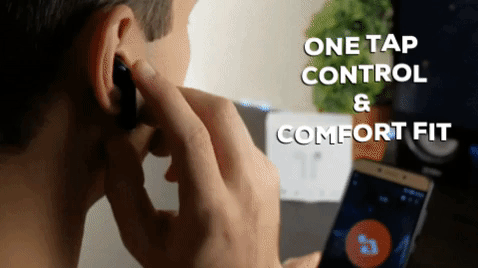 GUYS… THIS IS VALUE TECH AT IT'S BEST
Here's what more of our customers are saying on social media…
HAVE ANY QUESTIONS?
Contact us now using our contact page or email us at support@pennysays.com
Happy shopping!
From  All The Team At Pennysays!